Rounds Of Shotgun Firings Lands A Columbia Man Behind Bars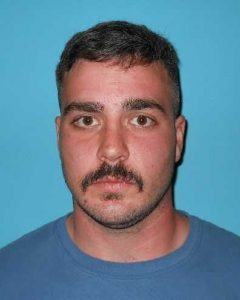 Samuel Santry

View Photos
Columbia, CA – An argument escalated into a Columbia man arming himself with a shotgun and shooting up a victim's belongings – but that was not his only weapon of choice.
Tuolumne County Sheriff's officials report after an argument with a woman, the suspect, 24-year-old Samuel Santry, jumped in a truck and rolled over some of her property. But he was not done yet; he then used a shotgun to blast away at her possessions. The incident happened recently at a home on Yankee Hill Road in Columbia.
Sheriff's officials detail that while she was at Santry's home visiting with his relatives the two argued and he took a woman's phone and threw it to the ground. He then allegedly grabbed more of the victim's belongings and threw them in the driveway. He jumped into a pickup and proceeded to run over the items.
Next, sheriff's officials indicate that Santry, with a shotgun in hand, took the woman's backpack and began firing at it. Sgt. Andrea Benson expounds, "She was scared and believed he was going to shoot her as he continued to fire the shotgun several more times." She adds, "He stated that he shot it at the ground. She was unsure where the shots were coming from as there were multiple shots. So, she was in fear for her life."
Santry was subsequently arrested and booked into the Tuolumne County Jail for assault with a firearm with a bail of $50,000.