Hit-And-Run Suspect Caught Driving Drunk In Sonora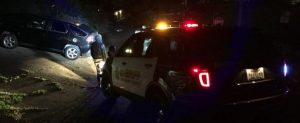 DUI arrest in Sonora

View Photos
Sonora, CA – An alert from a neighboring police department to Tuolumne County Sheriff's officials helped nab a hit-and-run suspect in Sonora.
This morning, the Modesto Police Department asked for the sheriff's help to check out a property on Columbia Village Drive in the Columbia area for the vehicle involved in the wreck. The teamwork paid off when a deputy on the way to the residence spotted the suspected vehicle, a black Pontiac SUV, southbound on Highway 49 near Shaws Flat Road with front end damage.
The driver, 28-year-old Maurica Walton of Sonora, took off heading into Sonora and once on North Washington Street tried to lose the deputy by making several turns onto streets through downtown Sonora. The deputy caught up with her at the intersection of North Shepherd and East Jackson streets. It was determined that Walton was intoxicated after she failed a field sobriety test. Testing done at the jail revealed Walton had a blood alcohol content of .21, according to sheriff's officials.
The details of the case were turned over to Modesto Police to complete their investigation.