Supervisors Approve Use Of Land For New Trail Off Greenley Road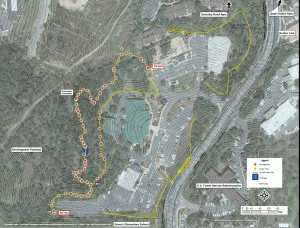 Proposed Walking Planned Trail Behind Sonora Library

View Photos
Sonora, CA — The Tuolumne County Supervisors will allow for a one mile trail to be constructed on county owned land near the main library and Sonora Senior Center.
It was noted at today's meeting that the idea was first proposed a few years ago by resident Mike Lemke, an adjacent property owner. He and the Tuolumne County Transportation Council, and county, have been working behind the scenes to see if was a possibility.
The "Sonora Community Trail Project" is estimated to cost around $30,000 to construct, and the Sonora Area Foundation has already received a $25,000 pledge from local company Front Porch that will go towards construction. Additional funds and donations will be sought to provide signage, benches and interpretive kiosks for the trail. The supervisors praised the location of the project, as it is also near Adventist Health Sonora, Sonora Elementary School and the Stanislaus National Forest office. The use of the property was approved 5-0. The one-mile trail will be spread across 10 acres owned by the county.
Large map of the approved trail here. Another map general area of the approved trail.