Two Busted In Calaveras County For Allegedly Using Fake Credit Cards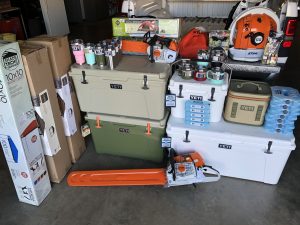 Items purchases with fake access cards

View Photos
Angels Camp, CA — Residents of Sacramento and Antelope were arrested for using  fraudulent credit cards to make nearly $6,000 in purchases at an Angels Camp business.
The alleged crimes occurred at Calaveras Lumber. The store clerk became suspicious after two people made separate purchases, one for over $2,700 and the other for over $2,900. The card numbers had to be manually entered because the magnetic stripes on the back would not scan. The employee provided a vehicle description and partial license plate number to law enforcement officials, and a Calaveras County Sheriff's Office deputy located the vehicle later near the Mar-Val shopping center in Valley Springs, and pulled it over for unrelated traffic violations.
The items from Calaveras Lumber were located in the vehicle. An investigation was carried out by the deputies, and officials with the Angels Camp Police Department. There were multiple people in the vehicle, but screen shots of the surveillance video helped officials identify 27-year-old Jennell C. Bartholomew of Antelope and 24-year-old Davon Martinez of Sacramento, as the pair that used the fraudulent cards. During the investigation it was determined that the two also made purchases last week at Sonora Lumber as well, in Sonora, using alleged fraudulent cards to buy $2,000 worth of items. The Angels Camp PD reports that Bartholomew admitted her involvement in the crimes, but Martinez refused to speak with the officers. They both face charges related to burglary and forging, acquiring, and using fraudulent access cards. An investigation is ongoing.