Two Injured When Deer Lands In Vehicle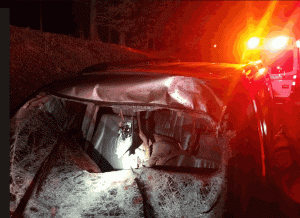 Deer lands in back of vehicle

View Photos
Sonora, CA — The CHP reports that two people suffered moderate to major injuries in a crash on Phoenix Lake Road near Meadow Brook Drive.
62-year-old Dale Zgraggen of Sonora was driving a 2007 Toyota Prius and hit a large deer with big antlers that had jumped right out in front of him. After being hit by the left front corner of the car, the deer went flying into the path of an oncoming 2004 Toyota Land Cruiser driven by 61-year-old Jody Kellerman of Sonora. The rear end of the deer crashed through the windshield and ended up in the backseat, with the animal's head on the center console (see photo by Judy Kellerman).
The CHP reports that Kellerman, and her lone passenger, 76-year-old George Kellerman, suffered injuries and were transported to Adventist Health Sonora. Zgraggen was not hurt.
The deer was killed in the incident.  The crash occurred on January 27 at 5:45pm.