Asleep Behind Wheel While Stopped On Highway 108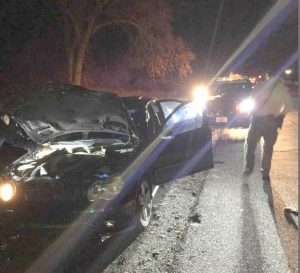 Mercedes involved in DUI arrest and drug bust

View Photos
Jamestown, CA — A Tuolumne County Sheriff's deputy was surprised as he drove by a black Mercedes idling in the eastbound lane of Highway 108 around 4:30 a.m. Wednesday with two people passed out in the front seat.
The deputy quickly made a U-Turn to investigate as the car was completely stopped in the eastbound lane near the O'Byrnes Ferry Road stoplight in Jamestown. Inside the vehicle he found the driver, 18-year-old Naomi Arista of Groveland and passenger 20-year-old Alwyn Bans of Modesto incapacitated.
"The deputy tried rousing them for several minutes. When he did wake them up, they seemed unaware of where they were at, other than that they were coming from Modesto," details Sgt. Andrea Benson. Noting the danger she adds, "Anybody could have come up on them. They didn't even stop, the vehicle was in drive. It just happened that they were at an incline so the vehicle was immobile at the time."
When the deputy ordered Arista to put the car in park, instead she caused it to lurch backwards and almost smash into the patrol car. Fortunately, the deputy was able to reach through the driver's window and put it in park. Once off the roadway, the deputy then searched the car and uncovered a loaded, unregistered Taurus 9mm handgun. With neither admitting the gun was theirs, both were arrested. Arista was also charged with DUI.
During intake at the county jail, three baggies totaling 11 grams of cocaine were found in Bans' sock, which he admitted he intended to sell. Bans was also charged with transportation and possession of a controlled substance for sale while armed with a loaded firearm.