'Out Of Control' Man Arrested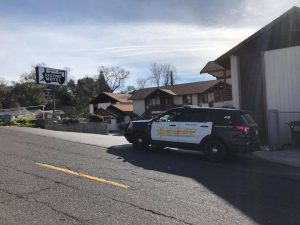 Kaufman arrest at Jamestown motel

View Photos
Jamestown, CA – An unruly man shouting and causing a disturbance at a Jamestown business should have left when he had the chance – instead he ended up in handcuffs.
A call came into the Tuolumne County Sheriff's dispatch around 11:30 a.m. on Monday regarding an "out of control" man yelling at the manager of the Railtown Motel, located at 10301 Willow Street, who had repeatedly asked the raucous group to leave. Deputies arrived while the manager was once again asking 39-year-old Joshua Kaufman and some of his friends to vacate his room.
Deputies ran a records check, which confirmed Kaufman was on probation and wanted for several drug charges including sales, but failed to appear for court. Next deputies conducted a search of Kaufman that discovered he had methamphetamine, a digital scale, numerous baggies, a methamphetamine smoking pipe and cash on him.
Kaufman was arrested and booked into the Tuolumne County Jail for drug possession with intent to sell and having drug paraphernalia.