Praise And Criticism For Brown's Final State Of The State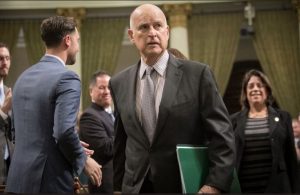 Governor Jerry Brown

View Photos
Sacramento, CA — While Governor Jerry Brown received a resounding standing ovation for his final state of the state address, some took aim at continuing challenges for California.
Brown gave an optimistic view during his speech at the capitol today praising the state's economy and bi-partisan achievements like the Rainy Day Fund, Cap-and-Trade Program and the water bond, as reported here. While Mother Lode Republican Senator Tom Berryhill acknowledged that there have been some positive steps forward, he noted citizens are still suffering and more work needs to be done. He states, "We are many years away from having a sustainable water supply, and we face a runaway cost of living, a housing crisis, a budget on the brink of disaster, an educational system that fails both students and teachers and a changing criminal justice system that in recent years has indiscriminately reinserted many felons back into our communities, making our streets less safe for hardworking families."
Assemblyman Frank Bigelow targets the "unpopular gas tax," the "wasteful high speed rail project" and also tapped the state's water problems, arguing, "During his 2015 inaugural address, Governor Brown promised that the state would 'be investing in long overdue water projects' by the end of the year. Three years later, no substantive water infrastructure projects are underway."
Regarding the Governor's praise of California's economy, Board of Equalization Vice Chair George Runner countered, "The Governor likes to take credit for California's economy, but it's really just part of a much larger national economic recovery. Our poverty rate is the worst in the nation, and homelessness is on the rise. When people are fleeing for the exits, it doesn't take an expert to figure out that something has gone very, very wrong."
State Treasurer John Chiang, who has tossed his hat into the ring for Governor, defended Brown's economic record, "Nearly eight years of leadership under Governor Brown has given Californians their lowest joblessness rate since 1976, turned a $27 billion deficit into a multi-billion dollar surplus, and positioned the Golden State at the edge of becoming the world's fifth largest economy." But he added,  "To convert our recent 'comeback' into long-term prosperity, the next eight years must result in the construction of millions of new affordable homes, the establishment of universal healthcare as a basic human right, and the largest expansion of retirement security for seniors since the passage of Social Security."
Other Democrats in the race for Governor include Lt. Governor Gavin Newsom, former LA Mayor Antonio Villaraigosa and former State Superintendent of Schools Delaine Eastin. Republicans include Assemblyman Travis Allen and Businessman John Cox.