Man Wanted On Three Arrest Warrants From Same Number Of Counties Caught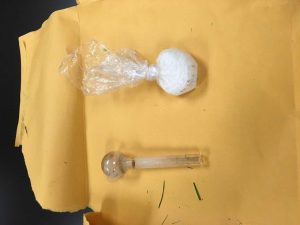 Drug and pipe siezed

View Photos
Valley Springs, CA — While fueling up at a Valley Springs gas station, Calaveras County Sheriff's Deputies recognized a wanted suspect and a foot chase began.
Deputies spotted, 31-year-old Joshua Peabody of Valley Springs in the parking lot of the Chevron Station off of Highway 26 just after midnight on Tuesday. A records check revealed that Peabody had four warrants for his arrest from three neighboring counties that included one out of Calaveras, two from Tuolumne and one from Amador. The warrants were related to drug and probation violations.
When deputies approached Peabody, he took off on foot. The chase did not last long as once he jumped over a fence, deputies were able to subdue and handcuff him. A searched netted several grams of methamphetamine and a pipe from Peabody.  He was arrested and booked into the county jail with no bail for resisting/delaying a peace officer, sale or transport methamphetamine for sale and his previous warrants. The street value of the meth seized totaled several hundred dollars, according to sheriff's officials.