New Superintendent Picked For Yosemite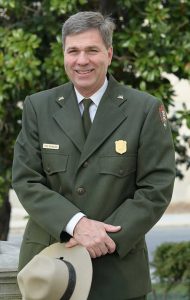 Yosemite National Park Superintendent Mike Reynolds

View Photos
Yosemite, CA — U.S. Interior Secretary Ryan Zinke today tapped Michael T. (Mike) Reynolds to the top spot at Yosemite National Park.
Reynolds has been the National Park Service's (NPS) acting director since January of last year and served as the deputy director for operations of the park service since 2016. "Mike did an incredible job stewarding our parks through 2017," said Secretary Zinke. "His leadership helping me combat sexual harassment and discrimination in the service as well as his big-thinking ideas to address the maintenance backlog is very much appreciated. I have all the trust in the world that Mike will bring his years of experience in field and in management to Yosemite."
Reynolds is a native of the area as he grew up in Yosemite and is a 31-year NPS veteran and a third-generation employee.  Reynolds also later returned to the park as a resource manager, planner and division chief, according to NPS officials. "When I think about my family's history in Yosemite, this feels like coming home—it's an incredible honor that I take very seriously," said Reynolds. "Times have changed since my grandparents served as 40-year concession employees in the park. However, we should still provide world-class service and experience to visitors in ways that sustain Yosemite into the next century. My focus will be on that, and on supporting our employees, repairing infrastructure and working closely with the communities and people around and associated with the park."
Reynolds will take over the superintendent helm in early March, according to NPS officials. His replacement for the acting director post was also named today. He is Paul Daniel (Dan) Smith.  Smith retired in 2015 after serving as superintendent of Colonial National Historical Park in Virginia. "Dan has a strong record of leadership in the National Park Service both in Washington and on the front lines as a superintendent of a park that tells the stories of some of the most consequential moments in American history," said Secretary Zinke. "I can think of no one better equipped to help lead our efforts to ensure that the National Park Service is on firm footing to preserve and protect the most spectacular places in the United States for future generations."
As the acting director, Smith will oversee more than 20,000 employees, a nearly $3 billion budget, and 417 national parks. "It is an honor and a privilege to return to Washington D.C., with the invaluable perspective from the field that I gained during my time as Superintendent of Colonial National Historical Park," said Smith.
Each year more than 300 million visitors flock to national parks and in turn generate over $30 billion in economic benefit across the nation.