Traffic Stop Results In Large Meth Bust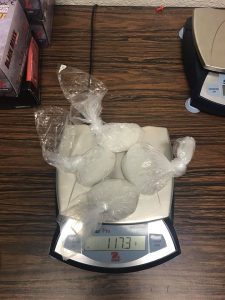 Drugs seized

View Photos
Jamestown, CA — Tuolumne County Narcotics Team Detectives recognized a wanted man and woman in a passing vehicle on Highway 108 which resulted in the couple's arrest and the confiscation of baggies full of methamphetamine.
Knowing that the Angels Camp pair had drug arrest warrants out for them, the detectives pulled the car over as it headed into Jamestown around 8:30 p.m. on Thursday. Inside the vehicle was 47-year-old Robin Hood and 46-year-old Tonya Conley. A search uncovered Hood had four bags of meth hidden on him with each containing an ounce of the drug bringing the total amount to a quarter pound.
Hood was arrested for possession and transportation of meth for sale along with committing a felony while out on bail. His bail is set at $40,000 for the new charges and $45,000 for the existing drug related warrants. Conley was taken into custody for her outstanding Calaveras County drug possession warrant. Her bail is $5,000.