Motorcycle Pursuit On HWY 49 Ends In Crash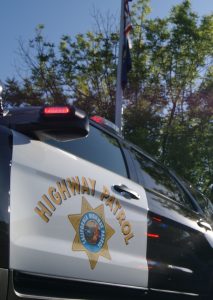 CHP patrol car

View Photos
Jamestown, CA – A Sonora motorcyclists was able to get away from a high-speed CHP pursuit only to crash his bike on Highway 49, landing him behind bars.
The chase began Thursday around 11:30 a.m. in Sonora and ended in Jamestown when the driver of the 1995 Honda CBR 600 motorcycle, 33-year-old Christopher Rommel, downed his bike. The CHP reports Rommel was speeding down Stockton Road when an officer came up with lights and siren blaring. Instead of pulling over, he took off. CHP spokesperson Faustino Pulido details that Rommell was recklessly weaving in and out of traffic on Highway 49. Due to the risk to public safety, the officer stopped chasing him south of Golf Links Road and lost sight of him.
Rommel continued southbound and just north of Fifth Avenue slammed on his brakes causing the bike to go down onto its side. The officer came upon Rommel trying to ditch the bike down a dirt embankment on the west side shoulder. After being treated for minor injuries, Rommel was arrested for reckless evading, driving on a suspended license, and possession of a meth pipe. He was also found to have another person's ID, checks, and debit cards on him.