Peak Fire Season Ends Monday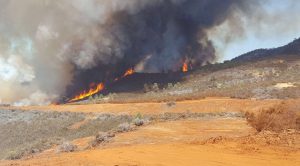 Detwiler Fire Flare-up 100-acre spot-July 27-2017

View Photos
San Andreas – Starting Monday, January 22 at 8 a.m. Mother Lode residents will be allowed to light up piles without a CAL Fire burn permit.
The CAL Fire Tuolumne-Calaveras Unit, which consists of Tuolumne, Calaveras and the eastern portions of San Joaquin and Stanislaus counties are included in the lifting of permits. CAL Fire spokesperson Lindy Shoff explains, "Recent rains and cooler temperatures across the region have lowered the threat of wildfires allowing for the transition out of peak fire season. For those working on their defensible space, CAL Fire burn permits are no longer needed, but before you burn make sure that it is a burn day."
CAL Fire will continue to monitor weather conditions and maintain staffing to meet any potential threat, as well as maintaining the ability to strategically move resources to areas that remain at a higher threat level, according to Unit Chief Josh White.
The 2017 fire season kept firefighters busy as there were over 6,000 wildfires statewide that burned nearly 505,000 acres. In the Mother Lode, crews responded to 250 wildfires that scorched 1,933 acres, which is down from the acreage burned in 2016, as Shoff details, "We had 198 fires that charred 2,292 acres, so more acreage was burned."
Shoff adds that residents still need to be cautious as a leading cause of wildfires this time of year is from escaped landscape debris burning.