Raid On Jamestown Home Nets Drugs And More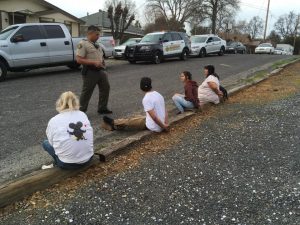 Drug bust arrest in Jamestown

View Photos
Jamestown, CA – A search warrant hit the mark as not only were drugs discovered but also a deadly weapon.
The drug raid by Tuolumne Narcotics Team happened on Tuesday just before 3p.m. at a home on Sierra Ave in Jamestown. Inside the house, detectives discovered typical items like methamphetamine, marijuana, pills and items used in drug sales, but they also uncovered something they do not always see – a pair of brass knuckles. All the items were confiscated.
The three individuals arrested are 60-year old Rebecca Harness, 19-year-old Zachariah Guzman, and 18-year-old Jenifer Batt. Their charges range from possession of methamphetamine for sale to maintaining a drug house.