Supervisors Approve Plans For Memorial In Tuolumne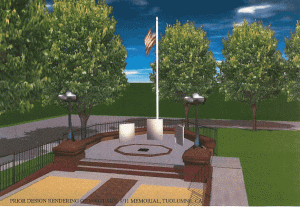 War on Terrorism memorial in Tuolumne

View Photos
Sonora, CA — The Tuolumne County Board of Supervisors enthusiastically endorsed the idea of constructing a war memorial on the eastern edge of the Tuolumne Memorial Hall.
The plan was also approved by the county's historic preservation review commission, pending a review of the final designs. It is being spearheaded by the local Veterans of Foreign Wars Post 4748 and will be funded by donations, grants and the sale of commemorative bricks. It will specifically honor victims of 9/11 and those that fought in Iraq and Afghanistan.
Initially there were plans to put it on the front lawn of the property, but there were concerns about drainage there, so it was shifted to the eastern side. The final design will be reviewed at a later time, once completed. Project co-chair, Frank Smart, noted that they plan to incorporate into the project limestone from the crash site at the Pentagon, sandstone from the field in Pennsylvania where Flight 93 went down and steel from the twin towers.  Aaron Rasmussen is the other co-chair.
The supervisors voted 5-0 in favor of allowing the east side of the memorial hall property to be utilized for the project.