Sonora Man Arrest For Theft At Area Casino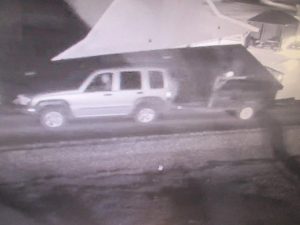 Surveillance footage picture

View Photos
Sonora, CA – A Sonora man was arrested for a theft at the Black Oak Casino Resort in Tuolumne but not for stealing money.
Tuolumne County Sheriff's office has been investigating a missing copper wire roll from a construction site at the casino since January 4th, when its disappearance was reported by the Tuolumne Economic Development Authority. The estimated value of the wire is $2500.
As pictured in the image box, a silver Jeep pulling a small trailer was caught on security camera footage Christmas Day leaving the site with the copper spool. Thursday, investigators got the break in the case they were looking for in the form of an anonymous tip, which indicated that the stolen property might be found at a house on Sky View Drive in Sonora.
Arriving at the home deputies immediately spotted a silver jeep and small trailer parked outside the residence. Investigators question a man in the home, 34-year-old Paul Graham. A check of the property uncovered the stolen copper wire in a nearby shed.
Graham was taken into custody. He was booked into the Tuolumne County Jail for grand theft and receiving stolen property.