Mother Lode Picked In New PG&E Rate Plan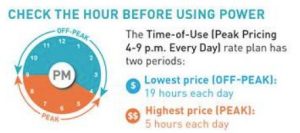 PG&E Time of Use rate plan

View Photos
Twain Harte, CA – Some PG&E customers in Tuolumne and Calaveras counties have been tapped to participate in a rate plan to promote more efficient energy usage.
The utility reports that letters will go out next week to 150,000 randomly selected customers statewide regarding participating in the Time-of-Use rate plan, which only pertains to electrical not gas use.  Included in that total are 4,800 customers in the Mother Lode: 1,200 in Twain Harte, nearly 1,000 in Mi-Wuk Village and 2,600 in Arnold. Customers can opt out of the program according to company spokesperson Brandi Ehlers. She indicates, "The good news about that is we will have bill protection. If customers are billed more in the first year of this program than they were in the previous year they will be credited back that amount."
The plan offers lower priced energy for 19 hours a day when renewable energy, like solar power, can be used and higher rates during the peak hours of 4 p.m. to 9 p.m. Ehlers notes the key to saving is usage, "It definitely will depend on the customers' ability to shift their usage. That's what it's really designed for, to encourage folks to run dishwashers or do their laundry outside of those peak hours where everyone is trying to use energy. Customers will benefit from lower pricing and help increase our state's reliance on clean energy."
PG&E advises it will use the results from this pilot project to formulate the full rollout of the Time-of-Use rate plan starting either in late 2019 or late 2020, pending on oversight by the California Public Utilities Commission. Customers seeking more information can call1-866-743-7945.