Looking For Owners Of Stolen Property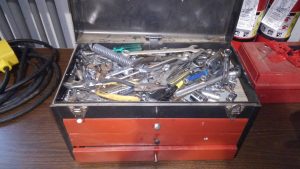 Stolen tools

View Photos
Angels Camp, CA — Angels Camp police want the public to check out the photos in the image box of stolen products.
One of the pictures is off a chest full of tools including wrenches, springs and plyers. The other photo is of a wheelchair. If you can identify and show proof of ownership, the department will return the stolen items to their rightful owners. To claim the property call the department at 209-736-2567.
Police did not reveal any details of when, where or how the items were stolen or found by investigators as that information may be needed for an individual to claim tools or the wheelchair.