Update: Fire On Highway 108 In Tuolumne County Contained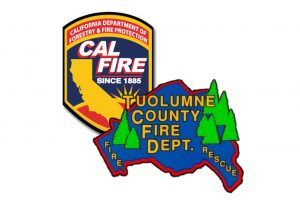 Cal Fire - Tuolumne County Fire Department Logo

View Photos
Update at 4:40 p.m.: Cal Fire reports a vegetation fire has been contained at 1 1/4 acre in the Jamestown area off Highway 108 west of  the O'Byrnes Ferry Road intersection. What sparked the blaze is under investigation. Crews will remain on scene mopping up for the next hour.
Update at 4:20 p.m.: CAL Fire reports that firefighters are making progress on a 1 1/4 acre vegetation fire off of Highway 108 just west of the  O'Byrnes Ferry Road intersection in the Jamestown area. The flames are burning at a slow rate of spread  in a field of grass and no structures are threatened. All incoming resources have been called off the fire.
Original post at 4:05 p.m.: Jamestown, CA — Firefighters are battling a vegetation fire off Highway 108 near O'Byrnes Ferry Road in the Jamestown area.
CAL Fire reports the fires is one acre in size and moving at a slow to moderate rate of spread. There is no word as to whether any structures are threatened. Motorists in the area will want to use caution in the area. We will bring you new information as soon as it comes into the news center.