Thomas Fire Jumps To Over 90 Percent Containment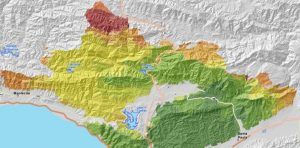 Thomas Fire flame progression

View Photos
Ventura County, CA – CAL Fire updates the deadly and destructive Southern California fire and the costs to battle blazes in the state so far this year.
The Thomas Fire burning in Santa Barbara and Ventura counties is 281,893 acres and 91 percent contained. Firefighters are close to completing containment lines around the perimeter of the 440-square-mile burn area with remaining active heat sources well inside those boundaries. The fire that erupted December 4th tore through entire neighborhoods destroying 1,063 structures and damaging 280 others. Two people died in the fire. A woman fleeing the flames and San Diego firefighter, 32-year-old Cory Iverson, who had ties to the Mother Lode as he worked as a Heli-tender truck driver at the Columbia Air Attack base in 2015. He was laid to rest this past Saturday at funeral, which Governor Jerry Brown attended.
The wind-driven inferno took over the top spot as the "largest fire" in California recorded history last week and the costs to battle the flames reached a scorching $174 million. Overall, the California Department of Forestry and Fire Protection reports it has already spent $699 million fighting wildland fires that includes costs for several blazes that ripped through Northern California in October.
Click here to view the flame progress map on the Thomas Fire.