November Revenues Exceed Expectations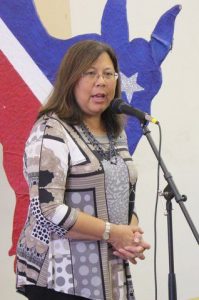 CA Controller Betty Yee Speaks In Sonora

View Photos
Sacramento, CA — California Controller Betty Yee reports a robust month of November powered by strong retail sales.
In her monthly revenue report, Yee touts California's total revenues of $8.31 billion for November were $449.8 million above expectations. Even though, personal income tax (PIT), the largest state revenue source, fell short by nearly $200 million, retail sales and use taxes and corporation tax beat expectations for the first five months of the 2017-18 fiscal year with total revenues of $40.96 billion. PIT receipts for November totaled $4.64 billion, 4 percent below estimates. The total receipts for the fiscal year of $27.60 billion are under budget estimates by 0.1 percent.
Last month sales tax receipts of $3.30 billion were $538.1 million higher than anticipated in the budget while for the fiscal year receipts of $10.16 billion are $733.4 million above budget projections.
Corporation taxes came in at negative $18.9 million as refunds outpaced receipts last month. Yee notes that this is not unusual, as there also was a negative for corporation taxes last November and the Department of Finance estimated negatives for the month in both years. However, this year's shortfall was better than expected, leading total corporate tax receipts for the month to beat budget estimates by $89.2 million, or 83 percent. For the fiscal year to date, receipts of $1.79 billion are $233.1 million above assumptions in the 2017-18 Budget Act.