A Season Of Giving Throughout The Mother Lode Community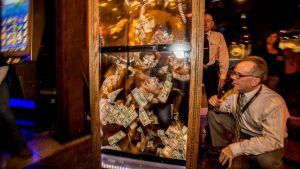 Black Oak Casino Resort's Cash Cube

View Photos
Tuolumne, CA — Black Oak Casino Resort is celebrating the results of its cash cube grab and gifts for the holidays to local non-profits and families.
"Black Oak Casino Resort takes great pride in our place within the community," said Aaron Moss, general manager for Black Oak Casino. "We are always looking for new opportunities to demonstrate our commitment, not only during the holidays, but throughout the year."
The resort donated more than $12,000 to ten charities and non-profit organizations during its 15 annual Community Cash Grab in November. Representative from the organizations got 30 seconds to snatch up as much cash as they could hold on to and haul out of the chamber. The casino also teamed up with Amador Tuolumne Community Action Agency's (ATCAA) Adopt-a-Family program donating Christmas presents and gift cards to 33 families. Resort team members came together to deliver 400 gifts to local families including items like bikes, scooters, winter clothes, diapers, and grocery store gift cards. The gifts collected came directly from team members and the annual Renegade Classic Toy Run.