Governor Requests Additional Feds Help For Southern California Wildfires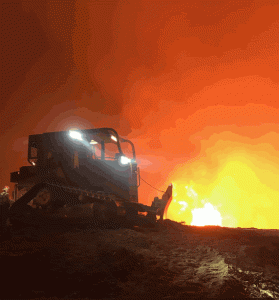 CAL Fire TCU Bulldozer Working At Thomas Fire

View Photos
Sacramento, CA – Governor Jerry Brown has requested a Presidential Major Disaster Declaration to bolster ongoing state and local recovery efforts in response to the Southern California wildfires.
The multiple fires exploded after being fed by warm temperatures, low humidity and fierce Santa Ana winds, which forced more than 200,000 Californians to evacuate their homes. The governor notes that over 8,700 firefighters were deployed to fight the fires, including California National Guard air and ground forces. Additionally, twelve states joined in to assist in battle the flames, among them Alaska, Arizona, Colorado, Idaho, Montana, New Mexico, Nevada, Oregon, Texas, Utah, Washington and Wyoming.
To date, the Thomas Fire in Ventura County has claimed the lives of two people, burned more than 272,000 acres and destroyed over 1,000 structures. The fire is 60 percent contained.
As reported here earlier this month, Brown requested extra financial resources and secured a Presidential Declaration for the wildfires.
To view Governor Brown's request for a Presidential Major Disaster Declaration, click here.