A More Than Million Dollar Gift To Tuolumne County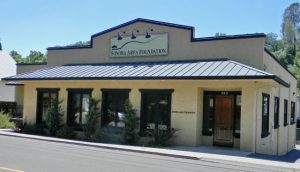 Sonora Area Foundation Office

View Photos
Sonora, CA — The Sonora Area Foundation revealed its final three grants to end the year of giving in Tuolumne County.
At their December meeting, the board of directors elected to handout two grants targeting the addiction crisis hitting not only the Mother Lode but the nation as well.
The Spiritual Roads program, which gives support and counseling services for those recovering from addictions, was awarded a $30,000 grant while the We Care Sober Living Recovery Home received a $15,000 grant. Clarke Broadcasting inquired whether more grants like these are expected with the opioid epidemic, Foundation Executive Director Darrell Slocum commented, "That's the kind of question I hate to have to answer to be honest with you. I think it's going to continue to be a problem in our area. I think we have some professionals that are involved in it and working on programs to help individuals overcome it, but the need is there. I don't see it going away anytime soon unfortunately."
The final grant of $7,000 went to Sonora Odd Fellows Foundation – Foster Youth Prom Program. The board also selected Habitat for Humanity of Tuolumne County as one of two recipients of the 2017 Elaine Symons Baker Award, which includes a $10,000 grant for program support. The second award went to a nonprofit that cannot yet be named as the foundation is still trying to inform them of the grant.
Slocum adds that total grants awarded in 2017 exceeded a million dollars once again, noting, "A big component of that is our scholarships program that has really ballooned to almost $370,000 alone. I'm just astounded by the generosity of our community.  One of the things that has allowed us to make those kinds of awards this year is that we have partnered with people in the community who've established funds at the foundation and that extends our ability to meet needs in the community. I'm touched by it and very appreciative and proud of our community. "
This year 25 new funds were established at the Foundation. SAF provided this list of other notable awards this year:
$90,000 to Big Dreams Playgrounds (including $50,000 from an anonymous donor)
$40,000 to Sierra Repertory Theatre (the 2017 Irving J. Symons Award winner)
$60,000 to Sierra Senior Providers for support of their Meals On Wheels Program
$17,000 to Interfaith Social Services
$39,000 to Groveland Community Service District for resurfacing of the playground at the community park
For information on the SAF, click here.