Bill Would Place Restrictions On Insurance Companies After Wildfires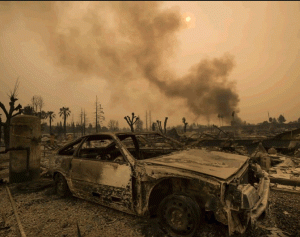 Fire Destruction In Sonoma County

View Photos
Sacramento, CA — Legislation will go up for debate at the state capitol that would prevent residential insurance companies from dropping, or declining to renew, customers following a major wildfire.
The legislation is being authored by Senator Ricardo Lara of Los Angeles, and it comes following major fires over recent months in both the Napa and Sonoma region, as well as Southern California. Locally, many residents also reported challenges in keeping home insurance in Tuolumne County following the 2013 Rim Fire.
Lara says, "What was historically a rural crisis is now an urban crisis, too. We have to prevent an insurance crisis that contributes to California's housing shortage."
He notes that Arkansas, South Carolina, Texas, New York and Florida have similar laws that prohibit or limit insurance companies from cancelling policies following a natural disaster.
Also of note, the "Wildfire Safety and Recovery Act" would require insurance companies to offer "mitigation discounts" to homeowners that make investments in wildfire safety and take proactive steps to reduce the impacts of fire.
Lara says he will formally introduce the bill when the legislature reconvenes on January 3.