Man With Stab Wound Arrested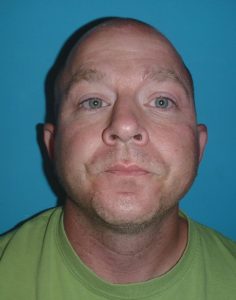 Adam Gregory Overstreet

View Photos
Sonora, CA – Sonora Police report a Jamestown man was covered in blood and waving a knife when he was confronted by officers near the ampm gas station on Pesce Way Tuesday night.
Officers ordered 39-year-old Adam Gregory Overstreet to put the knife down but he refused forcing them to physically restrain him. Police indicate that even handcuffed Overstreet continued to struggle with officers and make death threats against them. During the scuffle one officer suffered minor injuries.
Once in custody, officers discovered Overstreet had a puncture wound to the right side of his abdomen area. Sgt. Tim Wertz details, "He was cut in the abdomen and it was about a half inch slice. We haven't found any other victims or any suspects or any other information going in the other direction then that it was self-inflicted. He was acting pretty erratic with the knife so it could have been self-inflicted."
Overstreet's wound was treated and subsequently he was arrested on several felony charges including resisting arrest with force, criminal threats and threats to cause harm to a public officer. Further investigation revealed that earlier in the evening Overstreet had assaulted his wife. Sgt. Wertz indicates that she suffered from redness to her face. He was also charged with domestic battery.