Woman Used A Pipe During Attack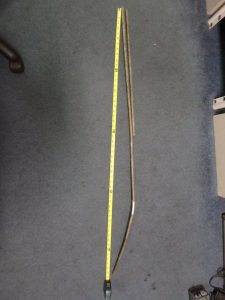 Metal pipe used in battery

View Photos
Sonora, CA – Sonora Police report that an argument escalated into a physical fight between a couple when the girlfriend grabbed a metal pipe and struck her boyfriend.
Officers responded to a report of a domestic disturbance just before 3:30 p.m. Monday in the 1100 block of Mono Way. During questioning it was determined that 41-year-old Danielle Kathleen Stellman of Sonora not only punched her boyfriend in the face but struck him with a metal pipe. He suffered minor injuries, but declined medical attention, according to police.
Stellman was taken into custody for domestic battery causing injury and assault with a deadly weapon. She remains at the Tuolumne County Jail on felony charges with a $35,000 bail.