Box Full Of Paper Leads To Citation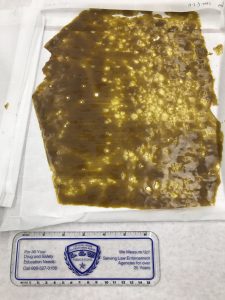 Waxed paper smeared with concentrated cannabis siezed as evidence

View Photos
Angels Camp, CA — A traffic stop in Angels Camp netted a box full of wax paper and what was on the sheets got the driver into trouble.
A passing vehicle caught the eye of an officer as it had no rear license plate light. After being pulled over, the driver, 27 year old Oscar D. Merino, of Baldwin Park near Los Angeles, could not produce a driver's license, which prompted a records check the revealed it was suspended. During a search of his vehicle's cargo area, an officer discovered a cardboard box with 54 separate sheets of waxed paper and on each was a smear of concentrated cannabis as seen in the pictures in the image box. Commonly referred to as "Butane Honey Oil," "Wax," or "Dabs," according to police.
Regarding the find, Merino indicated that he works for both a Sheep Ranch marijuana growing and a Butane Honey Oil facility in Southern California. He was cited for having more than four grams of concentrated cannabis and transporting marijuana but was released.
Police detail that the butane honey oil seized totaled around 3.7 pounds of concentrated cannabis which could sell for anywhere from $33,000 to $117,000 on the street.