Update: Sierra Red Flag Warning, Central Valley Winds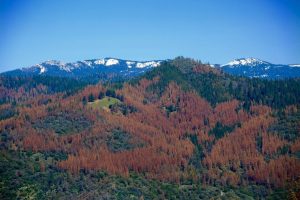 Aerial view of dead trees in the Pacific Northwest Region (California)

View Photos
The National Weather Service has extended the Red Flag Warning, issued for the Sierra Nevada, until 7 PM this evening.
Prolonged periods of single digit humidities are occurring across the mountains and will continue through this evening, especially at elevations above 4,000 feet. There may be some increase in humidity in the Sierra early today as a cold front moves through the district. However, as winds shift to the northeast this afternoon, humidity will decrease again. Winds could become gusty over the high Sierra ridges late this afternoon.
Winds of five to twelve mph will continue, becoming ten to twenty mph by this afternoon. Locally higher gusts are possible.
The humidity is less than ten percent at many locations. Humidity will increase slightly today, then decrease again this afternoon.
Any fires that develop will likely spread rapidly. Outdoor burning is not recommended.
Additionally, the Wind Advisory issued for the Northern San Joaquin Valley, will remain in effect until 6 PM this evening.
Winds of twenty to thirty mph will continue with gusts up to forty-five mph. Wind speeds will decrease tonight, but breezy conditions will continue into Sunday.
This could mean difficult driving conditions for small cars and high profile vehicles. Local tree damage and power outages are possible. Loose outdoor objects might be blown around.
A Wind Advisory means that sustained winds of twenty-five to thirty-nine mph are possible with gusts ranging from forty to fifty-seven mph. Winds this strong can make driving difficult, especially for high profile vehicles.
A Red Flag Warning means that critical fire weather conditions are either occurring now, or will shortly. A combination of strong winds, low relative humidity, and warm temperatures can contribute to extreme fire behavior.