New Director To Lead Tuolumne County Arts Alliance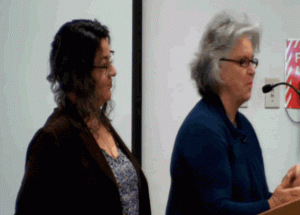 Lisette Sweetland (L) and Connie O'Conner (R) at supervisors meeting

View Photos
Sonora, CA — The Tuolumne County Board of Supervisors took time at today's meeting to officially declare the month of October as Arts and Humanities Month.
In doing so, longtime Tuolumne County Arts Alliance Executive Director Connie O'Conner took the opportunity to announce her upcoming retirement. She stated, "I'm here this morning to introduce someone very special, Lisette Sweetland, who will become the new Executive Director, part-time, sort-a-kind-of this month, and then full-time in January."
Sweetland later commented to the supervisors, "I just want to start off on the right foot with everyone by saying I look forward so much to working with you. It has been my belief, as a longtime resident of Tuolumne County, that art is very much alive here…I'm very grateful that I have a community behind me that really believes in what we'll do, and I really hope that we can keep it going in the future."
Also during the early portion of today's meeting, the supervisors took time to recognize National 4-H Week, and heard first-hand accounts from many youth leaders in the program.
Click here to read an earlier story about other items up for vote later on today's agenda.