Mountain Lion Encounter In Sierra Caught On Video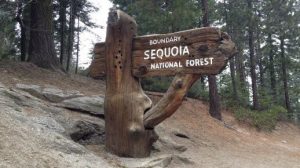 Sequoia National Forest
Sequoia National Forest, CA — A pair of hikers visiting the Sierra Nevada captured on video a unique encounter with a mountain lion.
The adult mountain lion initially ran down the trail, and appeared to be out of sight. As the hikers kept moving forward, they looked up and saw it staring at them from a perch above. The Associated Press reports that a nerve wracking stare down continued for approximately a half an hour, and a segment of it was recorded on video.
The incident happened on July 23, but it received attention after being shared by rangers with the Sequoia National Forest this week.
Wildlife biologist Daniel Gammons told the Associated Press that the men did the right thing by staying calm. Hikers in this situation should try to make themselves appear big by waving their arms in the air to scare off the animal, as the men did. He adds that they made the right decision by not running away.
After the mountain lion failed to budge, they eventually turned around and went to set up camp in another area. They did not see the lion again.
You can click on the box ("play video") to view the recording. The two men, Sam Vonderheide and Brian McKinney, were visiting the Sequoia National Forest and in the midst of an 11-day hike in the southern Sierra Nevada.
To more read information about what to do if you encounter a mountain lion, provided by the California Department of Fish and Wildlife, click here.