The Mother Lode Mourns Passing Of Vintner, Renowned Physician Ian Renner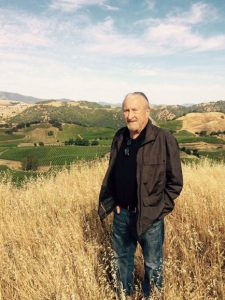 Dr. Ian Renner, Renner Winery Vintner, at his Canterbury Vineyard in Vallecito

View Photos
Murphys, CA – More details are becoming available about the sudden passing a few days ago of Dr. Ian Renner, co-founder of the Mother Lode's Renner Winery.
His wife, Diane Gray Renner, shares that the 79-year-old vintner, renowned physician-educator and scholar, peacefully passed away in his sleep Thursday evening due to prostate cancer complications.
A colorful and beloved local figure, in recent years Dr. Renner could often be found behind the bar at the Renner tasting room in downtown Murphys, where he enjoyed chatting with visitors. His love of reds, particularly Syrah, was as well-established as his dream to produce among the world's best.
Anyone visiting Renner's 55-acre Canterbury Vineyard in Vallecito would have a difficult time being less than wowed by its Syrah, Cabernet Sauvignon, Malbec, Zinfandel and Viognier plantings across the site's stunning topography, which he described as somewhat evocative of his native New Zealand. Before moving to the US, Renner spent time in Australia's Barossa Valley, where his love for Syrah – or Shiraz as it is known there – first developed. It was back in 1995 that Renner and his now-deceased wife Elena, both southern California doctors at the time, initially planted vines. The winery itself was launched as its 2006 vintage came to market.
His wife Diane, Renner Winery principal and sales manager recounts that the plantings were established well before Murphys was on anyone's wine radar. "So he had a vision long before the current, vibrant Murphys wine economy, so he knew," she confides, adding that it is the winery's hope that it will continue towards achieving Ian's dream of making world-class wines.
For those who knew him only as a vintner, she adds, "He was an extraordinary doctor — and people do not really know because he was very modest about his background — but he made a huge contribution in the world of medicine…developed endoscopies and ERCPs." ERCPs, endoscopic retrograde cholangiopancreatography as referred to in medical jargon, is a pioneering procedure used to diagnose and treat conditions of the bile ducts.
A former professor of medicine at the University of Southern California School of Medicine, in Los Angeles, Dr. Ian Graham Renner notably trained numerous young physicians in complex endoscopic procedures that he was instrumental in developing. After earning his undergraduate degree in physics and mathematics at Christchurch University, New Zealand and a medical degree from Otago University in Dunedin, New Zealand, Renner completed a residency in internal medicine and a fellowship in gastroenterology. The experience led him to dedicate future clinical and research efforts towards treating diseases of the liver and pancreas, particularly those cancer-related and his subsequent work was widely published. In 2013, he affiliated for a time with Mark Twain Medical Center as a specialist in gastroenterology and hepatitis services.
Besides his wife Diane, Ian is survived by son Ashly Ian Renner, stepson Travis Gray Bardsley, and grandchildren Isaac, Mia, Lua, and Ellis. His family plans a Celebration of Ian's Life on August 12 at the vineyard he loved so dearly. For more details, contact Renner Winery at 209 728-2314.