Investigators Eye Recent Arrest For Potential Burglary Case Link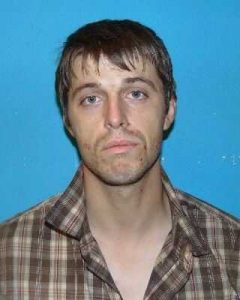 Garrett Hunter, TCSO Booking Photo

View Photos
Sonora, CA – An assist by local deputies to capture suspects fleeing law enforcement officials from a nearby jurisdiction may shed light on at least one of several recent burglaries in Twain Harte.
According to Tuolumne County Sheriff's spokesperson Sgt. Andrea Benson, deputies dispatched over the weekend to the area of Two Mile Bar Road and Highway 108 were called to support a Stanislaus County deputy in apprehending two fleeing subjects.
She details that the deputy had apparently been patrolling that area when he saw a suspect, later identified as 27-year-old Garrett Hunter of Oakdale, siphoning diesel fuel from a tractor at an Oakdale Irrigation District construction site. While he was apprehended and taken into custody, two other men ran north of the site. Tuolumne County deputies helped locate one of the subjects, 28-year-old Christopher Clements of Ceres, who was placed under arrest.
Benson reports that a search of Hunter's truck and backpack turned up hypodermic needles, methamphetamine, drug paraphernalia including toot straws, spoons with heroin residue, methamphetamine glass smoking pipes, 22 antipsychotic pills, 59 sedatives, Heroin, butane honey oil, and 100 clear empty plastic bags.
Hunter's roommate 30-year-old Matthew Ayers arrived on-scene intending to take possession of Hunter's truck, but as a records check determined that Ayers had a Stanislaus County warrant for failing to appear on drug paraphernalia charges, he was additionally placed under arrest. The three men were subsequently transported and booked into the Tuolumne County Jail.
Benson shares that during a search of the truck, deputies found an open tool box in the pickup bed that contained a red and black Porter Cable impact drill that matched the description of one recently stolen from a Twain Harte residence. The item was secured for a follow up investigation as stolen property.
In the meantime, Hunter faces charges of petty theft, trespassing, possession of a controlled substance, including for sale, as well as drug paraphernalia. Clements was charged with trespassing and resisting a peace officer. Ayers was booked on his outstanding warrant out of Stanislaus County.