Where To Go To Get More 'Bang' For The Fourth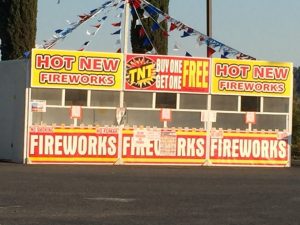 Stand Selling Safe and Sane Fireworks In Calaveras County

View Photos
Sonora, CA – While virtually all of the Mother Lode's large public fireworks displays played out over the past weekend a few options remain for those wanting to enjoy more festivities on the nation's actual birthday.
Tuolumne County has a long-held zero tolerance for fireworks. Unless specifically permitted through its Fire Prevention Division — and supervised/directed by a state-licensed pyrotechnic operator  as part of a professional public display – it strictly prohibits public possession, sales, use, display and/or explosion of any device containing flammable or combustible material, even the "safe and sane" branded ones.
A comprehensive list specified in the county fire code describes the ban as including all: party poppers; snap caps; rockets; firecrackers; roman candles; squibs; torpedoes or torpedo canes; fire balloons; wire or wooden core sparklers; black cartridges; any other combustible device or explosive substance or kind of fireworks by whatsoever name known. Citations or arrests and fines for infractions begin at $250; transporting fireworks of any kind into Tuolumne County is considered an offense.
'Safe And Sane' Fireworks Mostly OK In Calaveras
So, aside from watching them on tv, those living in Tuolumne County have little choice but to hoof it on over to Calaveras County, where there are a few spots to enjoy live fireworks of the "safe and sane" variety. These all bear the official Safe and Sane State Fire Marshal's seal that also carries the caveat that they must be responsibly set off using all the proper precautions.
Ebbetts Pass Fire District, which begins in the area near Folendorf Road just above the town of Murphys, is the notable exception because it bans all fireworks within its jurisdiction. Too, it is illegal to have or use them on federal lands, regardless of their location, county-wise. This includes Stanislaus National Forest. However, Safe and Sane fireworks are permissible to set off in the rest of the Calaveras fire protection districts as long as they are not used in public areas or parking lots. Fire officials stress that they must be ignited safely away from dry vegetation with a nearby working water source such as a hose bib and/or a fire extinguisher.
At least two Calaveras fire districts are stepping up to further enable the use of Safe and Sane fireworks on July 4 in the presence of trained professionals. Angels Camp Fire Protection District Marshal Nathan Pry shares that between 6 and 10 p.m. residents and visitors with legal fireworks may set them off at Bret Hart High School in the sports complex parking lot area next to the pool. The entrance to the lot, located off Murphys Grade Road, will be marked with signage. As the location is a public school facility no alcohol or smoking is allowed.
Firefighter-hosted Fireworks Display, Other Fourth Activities
Over at Copperopolis Fire Protection District, Fire Captain and Paramedic Matt Sowell says that, beginning at noon, the public may come by and set up lawn chairs for a "safe and sane" fireworks show at dusk featuring authorized pyrotechnics donated by the Copperopolis Volunteer Firefighters Association and members of the public. The event will take place behind the fire station located at 370 Main Street, where an area will be roped off. Parking is available in the dirt lot and along the road in front of the station.
Sowell shares that about an hour before dusk fire personnel will have sparklers and popsicles to pass out to the kids; he estimates the show itself will last 45 minutes to an hour – until all the fireworks have been detonated. Members of the public are invited to bring whatever Safe and Sane fireworks that they have as firefighters, dressed in protective gear, will be more than happy to set them off. He reminds anyone planning on attending to remember that alcohol is not allowed at this event.
Among the Independence Day festivities on tap for tomorrow in the Mother Lode, Twain Harte's Fourth of July parade and celebration, which runs from 11 a.m. until 2 p.m., leading off with the parade through the downtown area, featuring food vendors and kids' activities. Columbia's Glorious Fourth of July Festival, which is hosted at Columbia State Park from 10 a.m. until 4 p.m., offers many activities dating back to the Gold Rush Days, including a ceremonial flag raising and black powder musket salute at 11 a.m. In Calaveras County, a community concert at Turner Park in San Andreas will get underway at 6:30 p.m., showcasing the Calaveras Community Band.
Anyone out and about celebrating festivities on the Fourth should bear in mind that the CHP's Maximum Enforcement period remains in effect until midnight Tuesday. In addition to watching for signs of distracted driving, moving traffic and seat belt violations, officers will particularly be on the lookout for those who may be driving under the influence.