Highway 4 Ebbetts Pass To Open Ahead Of July 4th Holiday Weekend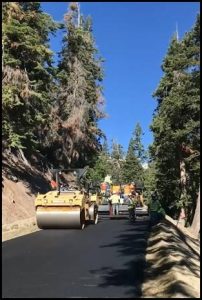 Highway 4 Ebbetts Pass, ready to open after epic winter, June 30, 2017

View Photos
Sonora, CA — Finally emerging a month later than normal from the effects of a epic, wicked Mother Lode winter Ebbetts Pass will open in time to herald the Independence Day holiday weekend and set a new record.
Caltrans officials announced this morning that the Highway 4 Ebbetts Pass gates will swing open at 1 p.m.
Spokesperson Warren Alford comments, "Obviously this was a big winter and our crews have really struggled to get the route open. Previously, the latest opening was June 26, 1942 — and you can imagine that was when the country was deep in the midst of World War II — and equipment [much less sophisticated] was very different back then."
Ebbetts Pass, at well over 8,700 feet, is one of the highest passes in the Sierra. Besides being the latest opening yet, this year marks only the third time in over forty years that it was not open by Memorial Day weekend.
Alford describes some of the toughest hurdles involved clearing snowdrifts up to 50 feet deep in some places. He says two stretches of the highway in one area, each about a third of a mile long, required crews to dig 20 feet just to get to solid ground so that the entire roadway in those locations could be rebuilt. In addition to the mountains of snow and big areas of road that had to be replaced, damaged guardrails and completely plugged up and or broken down culverts had to be dug out and replaced.
He reminds travelers that mobile phone service along the higher elevations of the pass is limited and that the closest gas stops as in Bear Valley on the west side and in Markleeville on the east side. Besides gassing up ahead of heading up the pass, carrying extra water, food and blankets is advised in the event of an emergency.
Other notable information regarding Ebbetts Pass is that it will temporarily close to accommodate the annual Death Ride Tour of the California Alps Bicycle Ride next weekend, so expect limited access to the area while that is underway. Too, in Hermit Valley just before the Ebbetts Pass summit, the north fork of the Mokelumne River is running much higher than normally as is Wolf Creek and the east fork of the Carson River. As Alford warns, "The water coming off the Sierra right now is deep and fast at levels not usually seen this time of year, so be careful."
With this opening of Ebbetts Pass for the season, all of the Mother Lode passes are now accessible for travelers. Highway 120 Tioga Pass opened just a few days ago, joining Highway 108 Sonora Pass, which was only able to fully open just after Memorial Day Weekend.