Death At Hetch Hetchy Under Investigation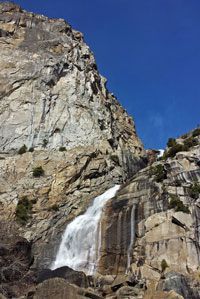 Hetch Hetchy, Wapama Fall

View Photos
Yosemite National Park, CA – Details are still being investigated over the circumstances that led to the sudden death of a Hetch Hetchy hiker over this past week.
Yosemite National Park spokesperson Jamie Richards confirms that the fatality involved a 66-year-old male last Thursday while on the Wapama Falls Trail at the bridge near the falls.
"Park rangers are still gathering information to try to understand what exactly happened…it appears that something caused the gentleman to slip and fall." She adds that no other information is being released as to his identity or place of residence at this time. According to the Tuolumne County Sheriff's Office, which is responsible for scheduling the autopsy and completing the death certificate, the autopsy was completed yesterday and the cause of death is being listed as a fresh water drowning.
Wapama Falls is reached, as park officials describe, via a five-mile roundtrip moderate up-and-down hike that follows the Hetch Hetchy shoreline. According to National Park data, there were 16 confirmed fatalities across Yosemite National Park last year amongst 5,217,114 Yosemite visitors, which turned out to be a record turnout for park attendance. In 2015, when the park counted 4,294,381 visitors, 20 were reported. Of related deaths at Wapama Falls, two were recorded from the bridge at the base of the falls at roughly the same time back in June 2011.
Natural Hazards A Constant
Richards calls the incident a tragic thing in a season at Yosemite that is otherwise going remarkably well. Speaking thoughtfully, she notes that the national parks and certainly Yosemite are full of natural hazards. She emphasizes, "People need to be prepared for their adventure when they go out into the great outdoors. You need to have the right gear, the proper footwear, carry water with you. There are very specific guidelines that can help you have a very safe and pleasant experience." Somberly, she continues, "But if you go for a long distance hike without any food or water that may not end very positively."
Even though, due to this past winter's storms, the waterways are running colder and faster than they have in recent memory, Richards maintains the public for the most part is heeding cautionary messaging and signage and that of the water rescues so far this season there have not yet been any major ones.
The park is experiencing a busy stream of tourism with plenty of wilderness permits being issued for Half Dome and other permitted areas. "One thing that people still need to be aware of is Tioga Road remains closed to all traffic – including bicycle traffic," Richards warns. While there is not yet an estimated opening date, "We are certainly getting closer but there are a lot of concerns…there are a lot of factors," she explains. Among these are getting restrooms and utilities back up and fully operational, making road repairs and dealing with water still running across some stretches that create driving hazards.
Sharing a final concern, she reminds those heading to Yosemite – and recreating outdoors anywhere, "It has been very hot and warm…take care for heat-related illness, drink plenty of water to stay hydrated, using shade, covering up with long sleeves and a hat — use sunscreen." Those minor steps, she stresses, can help folks enjoy a pleasant, successful time in the great outdoors during the excessive heat days that we have seen so far and those still ahead.