Sinking The Putt To Raise Money For 'Project HOPE'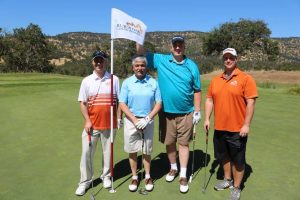 SRMC Golf Classic: Black Oak Casino Resort's Aaron Moss, Ron Patel, Ed Wickman and BJ Nelson at the Medical Center's Golf Classic

View Photos
Sonora, CA – Many hit the green to help fund a mobile health van that brings free care to those in need.
This year's Sonora Regional Medical Center's 17th Annual Golf Classic Resort raised $50,400 for its free mobile health van "Project HOPE." The van, staffed by a nurse practitioner, is stationed at the Crossroads shopping center twice a week and Interfaith once a month, providing free basic healthcare services to people who have no health insurance or who are underinsured.
"Project HOPE has been offering access to free, basic health-care services to our community for more than twenty years," says Kara Turpen, Manager of Philanthropy and Golf Classic organizer. "The Golf Classic is always a fun way for the Medical Center and supporters to make sure this important health-care service continues."
The charity event teed off at Saddle Creek Golf with 129 golfers, 56 event sponsors, donors and volunteers.
The hospital provided this list of winning golfers:
1st Place Gross – Philip Alphrey, Dale Brown, Bobby Chima and John Dahlpogetti
1st Place Net – Larry England, Steven Jensen, MD, Michael Arnold and H. Randolph Holder
2nd Place – Jim Hoyt, Mutumga Maithya, Nick Parry and Joe Deleon
3rd Place – Doug Johnson, Mike Keckler, Blake Ollar and Brad Shannon Most Honest – K.C. Cole, Suzanne Mahanna, Dennis Lafayette and Paul Wild
Closest to the Pins — # 4 – Guy Martin # 7 – Joe Deleon #11 – Mike Schussel #14 – Dan McCulloch)
Longest Drive — Blake Ollar
Straightest Drive — Men – Sammy Marquez
Straightest Drive Women – Alba Rodriguez
Mr. Bones Contest — Juan Maya