Hundreds Of Pot Plants Seized In Calaveras County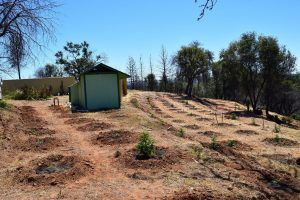 Mountain Ranch marijuana bust

View Photos
Mountain Ranch, CA — A property search found two men on the illegal site, which led to a foot chase where both men managed to escape.
Calaveras County Sheriff's Deputies along with code enforcement agents carried out a search warrant on an unregistered illegal marijuana grow on property in the 8400 block of West Murray Creek Road in Mountain Ranch around 9 a.m. Monday. During the raid, deputies spotted two Hispanic males running into a heavily wooded area at the rear of the lot. Deputies combed the area but could not find the suspects. However, they did discover 399 marijuana plants and a snare placed along a small game trail. Sgt. Anthony Eberhardt explains, "The snare is used to trap wildlife, game inhumanly." He notes they may have been using it for food or as bait to bring in bigger game.
An investigation into the identities of the men is ongoing. Sheriff's officials ask the public to report suspected unregistered pot grows to the Calaveras County Marijuana Enforcement Team Tip line at (209)754-6870.