Emergency Roadwork On HWY 108/120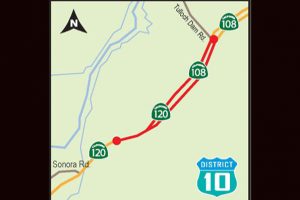 Caltrans emergency culvert repairs on HWY 108/120

View Photo
Tuolumne County, CA – Commuters that take Highway 108/120 should give themselves extra time to reach their destinations all next week as emergency roadwork will slow traffic east of Knights Ferry.
Caltrans will begin a $1.2 million project to replace culverts damaged during the recent winter storms. Crews will begin the emergency underground piping replacement on Sunday, April 2. The work area will stretch from the Tuolumne and Stanislaus County Line to just east of Tulloch Dam Road, near Lake Tulloch.
Caltrans detailed, "Westbound traffic will be diverted to the eastbound side of the divided highway during the project. Eastbound traffic will be channeled into one lane to accommodate the diversion. Caution is asked of all drivers, who will need to negotiate the diversion to avoid construction crews and equipment."
Motorists are also asked to obey all personnel and signage while slowing down in the cone zones. The project will run daily for the entire week until Sunday, April 9, 2023.