Butte Fire Hazard Tree Removal Crews Working Through Holiday Weekend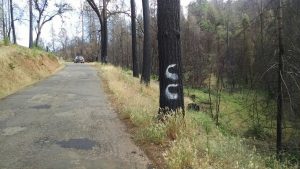 Calaveras County trees marked for removal

View Photos
San Andreas, CA – Those traveling through the Butte Fire burn scar should continue being cautious as burnt hazard tree removal continues – including over much of the Memorial Day three-day weekend holiday.
According to Calaveras County government spokesperson Sharon Torrence, crews continue toiling along the public rights-of-way and private properties. She notes that currently there are well over 8,200 trees on the ground.
"The location and complexity of the remaining trees makes the job of taking them down more difficult and time consuming," Torrence emphasizes. "Hauling crews have removed 51 percent of debris and logs left by the cutting crews — and that material was taken to Wallace to be chipped, then transported to Chinese Camp to a Biomass waste-to-energy plant."
At this point, officials say there are three cutting and six hauling crews working on the following roads: Doester, Jesus Maria, Upper Dore, Michael, Avenue A, Prussian Hill, Potteroff, Baker Riley, Worden and Whiskey Slide.
Crew hours this week are 6:30 a.m. to 6 p.m. every weekday as well as Saturday and Monday May 29, Memorial Day.