Calaveras Board Of Supervisors To Discuss Storm Impacts And More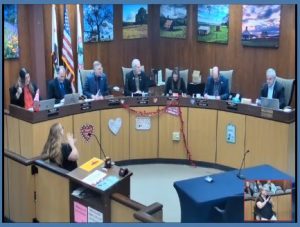 Calaveras Supervisors Discuss Kindness

View Photo
Calaveras, CA– Calaveras County Board of Supervisors will be holding their regular session on the morning of March 28. The meeting will start at 9 am, and members of the public are welcome to attend.
The agenda includes an update presentation from staff on the winter storms that hit the county starting December 29, 2022. The supervisors will hear about the impact of the storms and what measures were taken to mitigate the damage. The Board will also adopt a Proclamation declaring the week of April 3, 2023, through April 9, 2023, as Public Health Week. Another Proclamation to be adopted is for the month of April 2023, Child Abuse Prevention "BE THE ONE" Month in Calaveras County. The proclamation's goals are to highlight the need to prevent child abuse and encourage the community to take action.
The Board will receive a presentation from the University of California Cooperative Extension staff, which will provide information on various agricultural and natural resource programs available in the county. Supervisors will also approve a comment letter to the California Department of Forestry and Fire Protection regarding the Fire Hazard Severity Zones. The letter will highlight the Board's concerns and recommendations related to the current Fire Hazard Severity Zones. In addition, the Board will adopt a Resolution approving the reappointment of Sarah Edwards to the position of County Counsel for a new period of four (4) years, effective May 11, 2024. The resolution will also include an increase in base salary effective April 8, 2023.
Full details about the meeting can be found here.