Wind, Frost, Rain And Mountain Snow On Tap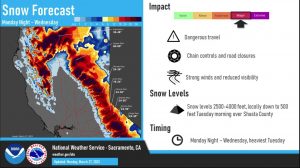 NWS Snow Information

View Photo
Sonora, CA — It is a chilly start to the work week in the Mother Lode.
First off, the National Weather Service has issued a Frost Advisory for the Mother Lode and Northern Sierra Foothills until 9am (Monday). The frost has the potential to kill sensitive outdoor vegetation.
In addition, the National Weather Service says a Wind Advisory will go into effect for the Mother Lode and the surrounding region at 8pm Monday and continue through 5pm on Tuesday. The NWS advises using caution when driving during that time, especially larger vehicles like RVs and semi-trucks. It is also recommended to secure outdoor objects, as winds could range from 35-45 mph.
Lastly, a Winter Storm Warning will go into effect at 11pm Monday for the Western Slope of the Northern Sierra Nevada until 8pm on Wednesday. Snow levels are anticipated to mostly range from 3,000-4,000 feet, possibly dropping to 2,500 feet at times. The highest elevations could receive 24-36 inches of snow. Rain is again anticipated in the Mother Lode's foothills during that span, with much of the area anticipated to receive over an inch.