Local Students Recognized For Achievements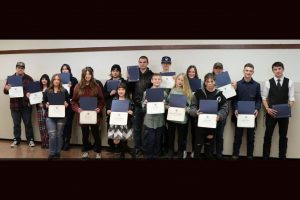 Students recognized at the event: Students honored at the Every Student Succeeds Breakfast in February include (from left): Front row — Norma Stover, Shay Cargill, Evangeline Young, Owen Hill, Marley Hartzell-Brown, Carmen Rico; back row — Gabe Castro, Mashaela Nute, Alicia Grotomeyer, Bryon Johnson (blocked in photo), Grant Pollock, Tyler Wine, Brayden Irwin, McKenzie Munsel, Nathan Dovie, Colton Pingree, and Colton Harger

View Photo
Sonora, CA – The 2023 "Every Student Succeeds Breakfast" was held last month at the Sonora Elks Lodge and some of those making the grade were also awarded scholarships.
The Tuolumne Charter of the Association of California School Administrators (TCACSA) hosted the annual breakfast where 18 students, ranging from kindergarten to 12th grade, were recognized for their achievements. Family members and educators who supported each student were also invited to attend.
Each school district in Tuolumne County nominated one student for recognition for academic achievement, with some overcoming obstacles or challenges. During the breakfast, a brief description of each student's achievements and successes was noted.  12th-grade students also received a $1,000 scholarship to continue their future education from the Sonora Area Foundation and community member, Dan Imfeld.
TCACSA provided this list of students that received recognition:
Belleview Elementary………………………………………..……Evangaline Young
Cassina High………………………………………….………….…………..Norma Stover
Columbia Elementary…………………………………………….……..….Shay Cargill
Connections Academy……………………………..……..………….…..Olivia Anker
Curtis Creek Elementary………………………………………………….Carmen Rico
Don Pedro High……………………………………………….………..….Colton Harger
Gold Rush High……………………………………………..…………Alica Grotemeyer
Jamestown Elementary……………………………….………….…..Bryon Johnson
Sonora Elementary……………………………………….…Marley Hartzell-Brown
Sonora High School………………………………………..…..…………Nathan Dovie
Soulsbyville School……………………………………..…………………….…Owen Hill
Summerville Elementary……………………………….……..…McKenzie Munsel
Summerville High School………………………………….Gabriel "Gabe" Castro
TCSOS…………………………..……………………………….………..…..….…Tyler Wine
Tenaya Elementary…………………………………………………………Grant Pollock
Tioga High School………………………………………………..……….Colton Pingree
Tuolumne Learning Center………………………………….……….Mashaela Nute
Twain Harte Elementary……………………………….………….…..Brayden Irwin