Another Arrest In Big Hill Area Murder; One Suspect Remains On The Run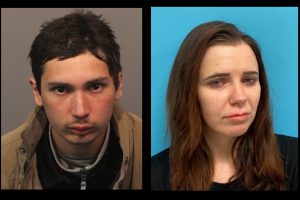 Murder suspects Kasual McGuire-Meder and Sabrina Starkweather

View Photos
Columbia, CA – A second man has been arrested in Nevada for last week's Big Hill murder, while the daughter of another suspect taken into custody for the homicide last week remains on the run.
On Wednesday, March 15th, around 3 p.m., an ambulance was dispatched to the Calle Quartz Road area of Big Hill for a report of "a man found on the ground in his home." Detectives and the coroner responded and determined the death was a homicide. Two days later, on Friday, 63-year-old Jon Starkweather was arrested at his residence in the 13300 block of Calle Quartz Road for felony first-degree murder, robbery, and conspiracy to commit a crime, as detailed here. Tuolumne County Sheriff's officials announced today that an autopsy confirmed the coroner's suspicions, revealing that the deceased, 63-year-old Ben Lindsey, died as a result of blunt force trauma. Additionally, the sheriff's investigators disclosed, "Witnesses in the area reported Lindsey's Jeep had been missing for a few days."
During the investigation, several search warrants were obtained to obtain video surveillance, and numerous interviews with potential witnesses were conducted.  They revealed that Lindsey's neighbor and tenant, Jon Starkweather's daughter, 28-year-old Sabrina Starkweather, and her boyfriend, 22-year-old Kasual McGuire-Meder, were staying at his residence during the time of the murder, according to sheriff's officials, but the two were nowhere to be found.
Investigators then learned that McGuire-Meder had been arrested for an unrelated crime in the Washoe County area of Nevada last week. And on the same day Starkweather was arrested, McGuire-Meder was arrested in Nevada for murder, conspiracy to commit a crime, robbery, and taking a vehicle without the owner's consent.
An active murder warrant was issued for Sabrina Starkweather, who remains a fugitive. Sheriff's officials say this remains an ongoing investigation, and they ask that anyone with information on this case or the whereabouts of Sabrina Starkweather contact the Sheriff's Office Investigations Division at 209-533-5815.