Celtic Faire And Second Weekend In March Events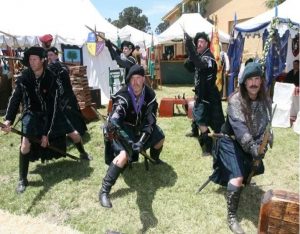 Celtic Faire

View Photo
There are several events happening in spite of the rain expected this weekend.
Be a part of living history at the 37th Annual Celtic Faire in Angels Camp this weekend. Friday is education day, expect authentic rainy weather, with outdoor entertainment and indoor vendor areas to visit. The Imperial Knights will full contact joust, Kevin Axtell is Master of Ceremonies entertaining with juggling, comedy and more. The Sacramento Siege and Warpigs will be fighting in armored combat as part of their practice to earn gold medals at local and national level events to earn a spot on Team USA to compete internationally. Splendid Absurdity is a comedic show that will have kids cheering for their favorite knight while marveling at the acrobatic skills of the performers. Hearts of Khyber, a collective of musicians and dancers representing the nomads that traveled the ancient Silk Road, will perform. Authentic food, Whiskey, and other drinks will be available Saturday and Sunday, meet the Celtic Caterer, and a full list of vendors is here.  There will be reenactment camps with the full list including clans and societies here. Bands include Celtica Nova with their fiery torches on the bagpipes and burning drumsticks, Culann's Hounds, Wicked Tinkers, Banshee In The Kitchen, Blame The Whiskey, The Black Irish Band, Golden Bough, Stout Rebellion, Renee De La Prade, The Fresno Stag And Thistle Pipes & Drums, and the Emerald Society Bagpipe Band.
Student tickets (ages 6-17) are $15 on Friday, adults are $15 on Friday. Saturday general admission (age 13+) is $30 and children 6-12 are $10. Sunday general admission (age 13+) is $25 children 6-12 are $10. Parking at the Calaveras Fairgrounds is $10 in cash.
Suerra Waldorf School's "Prehistorically Inaccurate Stone Age Soiree" will feature a live auction and dance on Saturday night at the Armory. Ticket and a link to the auction items are here.
Saturday, March 11th is Downtown Sonora Second Saturday Arit Night with a St. Patrick's Day theme. An updated list of Art Night highlights is here. Also, join a fun group of dancers at the Aronos Club in Sonora on Saturday. Dance to your favorite music Pop, Oldies, Country, Latin and even some line dancing. Requests are gladly taken. Enjoy the dance floor and a great group of regular dancers, who can even help you learn a new step or maybe you can teach them. Details are here.
The annual Tuolumne County Alliance for Resources and the Environment (TuCare) dinner and auction is this Saturday evening at the Sonora Elks Lodge. The theme of this year's event is, "The Importance of Promoting Agriculture Literacy to Urbanites." California Senator Brian Dahle, the Republican who attempted to unseat Governor Gavin Newsom during last year's election, will be the guest speaker as detailed here.
MYACT Mountain Youth and Community Theater are performing Newsies. Disney's Newsies Jr. is a shorter version of the 2012 Broadway musical, based on the 1992 film and inspired by the story of newsboys in turn-of-the-century New York City. All the upcoming performance times are in the event listing here.
The VFW Post 2600 is hosting a Crab Feed in San Andreas as detailed here.
The 35th Annual Jamestown Run is Saturday morning. The race offers a 2 mile, 10K run/walk. Be part of a tradition of encouraging people in our community to live a more healthy lifestyle while raising important funds for Jamestown Elementary School, all proceeds from this fundraiser will go directly to the 6th grade Science Camp and the school band.
Miss Calaveras Scholarship Pageant Applications, available at Bret Harte High School, Calaveras High School, Fair office and at frogtown.org, are due March 8. The pageant is held at the Calaveras County Fair & Jumping Frog Jubilee on May 18. Young women who reside in Calaveras County may enter if they are between the ages of 16 and 23 to win $10,000 in scholarships.
Mother Lode Art Association's 68th Fine Art Show and Exhibition from April 7 through April 15 in conjunction with the City of Sonora's Art Week reminds artists the postmark deadline to submit an entry is Friday, March 17.
Enjoy the view from our several webcams here, check out the movie times at local theaters, and the Snow Report in our weather section here.