Overnight House Fire In Calaveras County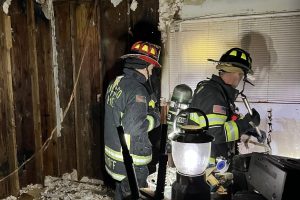 Residential structure fire in Calaveras County

View Photos
Rancho Calaveras, CA – A neighbor, spotting flames shooting up the side of a nearby garage in Rancho Calaveras overnight, called 911.
The neighbor also alerted the home's residents, who all escaped the flames unharmed. The call came into fire dispatch around 2 a.m., with Calaveras Consolidated Firefighters (CCF) heading to a residential structure fire on Sparrowk Road near Baldwin Street and south of Highway 26. Once on scene, firefighters had to deal with wind gusts of 40–50 mph while battling the blaze. Crews were able to extinguish the fire on the outside of the garage before the flames were able to spread to the home's attic.
Fire officials determined that charcoal briquettes from a barbecue that were discarded next to the home on Thursday afternoon ignited the blaze. "The hot coals around 1:30 a.m. ignited some combustibles and then spread to the garage siding," they explained. It is not an uncommon occurrence, according to Calaveras Consolidated Fire, which wants to remind everyone to "not discard hot coals next to the house and recommend that you place them in a metal container with a lid."
Additionally, no firefighter injuries were reported.