Sierra Wildfire Risk Potentially On The Rise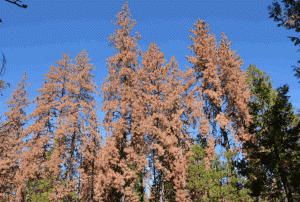 Tree Mortality In Sierra Nevada

View Photos
Boise, ID — Infestations of bark beetles still killing trees in the Sierra Nevada foothills might spike wildfire risk in May and June.
That possibility is among several outlined in the summer 2017 fire outlook, issued this afternoon by the Boise, Idaho-based National Interagency Fire Center.
Center officials say that, overall, wildfires this summer are expected to be most severe in southwestern U.S. states, Florida, Georgia and in some parts of California and Nevada.
They also indicate that heavy winter snow and spring rains that flooded many western states, including California, will probably delay the onset of this season's worst wildfires. While some parts of the country with higher elevations could see a lighter fire year, soaring hot summer temperatures could rapidly alter that prediction.
Wildfire season is already raging in Florida, southeastern Georgia, Arizona and New Mexico as ten new large wildfires reported as of last week.
Last year, wildfires burned 8,600 square miles across the U.S., mostly in the western states, resulting in suppression costs of $1.97 billion.