The Mother Lode Remembers Musician/Actor, Teacher Rick Restivo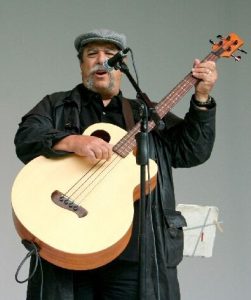 Rick Restivo, Black Irish Band photo

View Photos
Sonora, CA — The Mother Lode is mourning the unexpected loss of a colorful, beloved personality whose life literally touched thousands.
Two weeks ago, while teaching his music classes at Foothill Leadership Academy, and that weekend, while turning in what turned out to be his last public performance, singing and playing bass with his mates in the Black Irish Band he co-founded at Sonora's Celtic Faire, Richard Restivo, 64, seemed to be recovering from a respiratory infection of some sort. However, shortly afterwards a respiratory flare up took him back to the hospital where doctors uncovered a more serious lung ailment. On Friday evening he died peacefully, surrounded by his wife, Cynthia, daughters Lizzy and Maria, 26 and 23, and son Dominick, 17.
A proud, first generation Sicilian-Italian American from southern California, Restivo was, for many families and former students, a luminous fixture at Sonora Elementary School. After hiring in as a freshly credentialed graduate from Stanislaus State University in Turlock, he stayed on, teaching music and drama for 34 years. A talented actor, singer and multi-instrumentalist, he played guitar, bass, trumpet and drums. After retiring seven years ago, he remained plenty busy, both performing with the band and teaching part-time at Summerville Elementary, Sierra Waldorf School and most recently at Foothill Leadership Academy.
Monday, despite her pain and in the midst of making arrangements, Cynthia, a renowned storyteller and drama teacher, spoke with joy to Clarke Broadcasting about her husband of 33 years. Describing him as a passionately dedicated teacher and father, she recalls the introduction to the one who would become her leading man in life as they were being cast opposite each other in a production of "A Streetcar Named Desire." The two later toured Europe together as members of the International Theatre of Vienna. Despite their immediate chemistry, she says what sealed the deal for her was watching Rick's incredible caring for and connection with his students. They married in 1990.
Patrick Karnahan, one of Restivo's best friends and co-founder of the Black Irish Band recalls their first meeting in 1986 while putting together a brass section for a charity Christmas carol performance. Although they felt a great affinity, he says it was not until 1989, when they were both cast in "Back To the Future III" as members of the "Hill Valley Brass Band," that they began talking about their shared love of folk music. Through playing a mix of Irish and Italian folk tunes together the idea of the Black Irish Band was formed. Through the years and various incarnations, the group managed to make over two dozen albums and create over a hundred recordings as well as tour internationally.
This weekend, Cynthia says there will be a private family service in Muir Woods, where they were married, but plans are to hold a celebration of life for Rick in July with plenty of live music. She is also in the process of setting up a music scholarship fund that folks will be able to donate to in his memory, with details shortly to come.