Update: Tree Worker In Tuolumne County Killed During Accident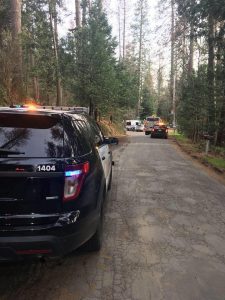 Response To Fatal Tree Removal Accident

View Photos
Update at 10:15am: The Tuolumne County Sheriff's Office has identified the man who was killed in a tree removal accident in Twain Harte.
21-year-old Jorge Garcia Moctezuma from the state of Washington was working for the company Action Trees, based in Kentucky. His crew was in the area working under a tree removal contract through Trees Inc. and PG&E.
Sheriff's Office Spokesperson Sgt. Andrea Benson says, "Jorge was working on a 100 ft. Ponderosa Tree and had just cut a 20 ft. section from the top. The cut piece came down and swung back and forth causing the tree Jorge was on to break below him. The tree fell to the ground on Cedar Springs Road taking Jorge and live power lines with it. Emergency personnel arrived and sadly Jorge was deceased. The crew who witnessed this tragic event were very distraught. The Tuolumne County Sheriff's Office Chaplin was called and stayed on scene to be with the crew members."
Sgt. Benson adds that the Sheriff's Office sends its condolences to family and friends of the victim during this tragic event.
PG&E has released a statement on the accident. It reads, "Our hearts and prayers are with the family of our subcontractor's employee. We are investigating the incident with our subcontractor, the contractor, as well as with the proper authorities. The safety of our employees, customers and contractors is our highest priority.
Original story posted at 7am: Tuolumne, CA — A man cutting down a tree was tragically killed over the weekend on Cedar Springs Road near the Tuolumne Road North intersection.
The Tuolumne County Sheriff's Office reports that the man was fatally injured late Saturday afternoon after falling when the tree he was cutting down fell into power lines. The company the man was working for, as well as next of kin, were contacted. The man's name has not been released at this time by law enforcement authorities. We'll pass along more information when it becomes available.
This is second tree removal related fatality in the Mother Lode in just the past couple of weeks. Calaveras County officials reported earlier this month that Chris Hiser of Sonora was fatally killed while working within the Butte Fire burn scar.