Update: Logging Truck Crash On Rawhide Road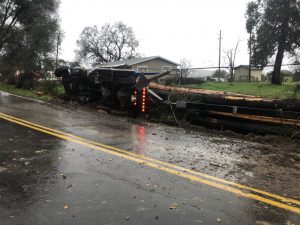 Logging Truck Crash On Rawhide Road - Photo by @Tuolumnecode3

View Photo
Update at 10am: The CHP reports that travelers will want to continue to avoid the 19000 block of Rawhide Road as cleanup continues from a logging truck rollover accident. Minor injuries were reported in relation to the crash, which occurred around 7:15am. There is a heavy amount of mud and wood still blocking the roadway.
Original story posted at 8am: Jamestown, CA — Emergency responders are on the scene of a logging truck that rolled over in the 19000 block of Rawhide Road.
It is not immediately known if there are any injuries associated with the crash. It happened at around 7:15am. The CHP reports that the truck also struck an ATT pole.
Travel with caution in the area and be prepared for activity.
There is also a crash at Jamestown Road and Johnny Avenue, and an ambulance is responding to the scene. The vehicles are off the roadway.
There have been various reports this morning about downed trees due to the weather, and some isolated flooding in areas. Use extra caution if you must travel.
To read about the latest weather warnings, click here. 
Information about school cancelations can be found here.